So I finished the assignment on time, perhaps took much less time than I was expecting. Even though Z3 has a terrible documentation page. How hard could it be to browse its documentation? Curious, take a look. Don't even get me started on the non-functional tutorial page, what is that big blank white frame on the left!? I have tried multiple browsers and it stays the same.
Jack showed me what was wrong with that page: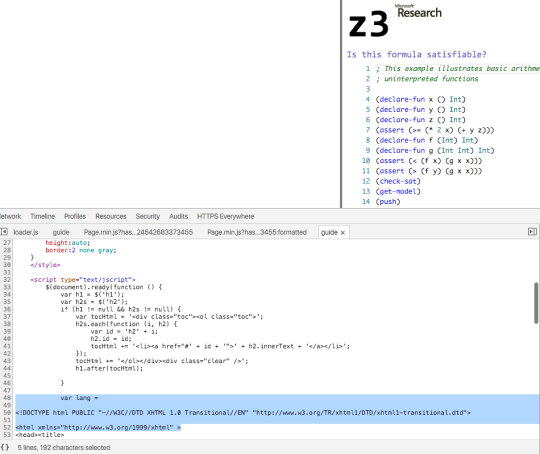 Well done, Microsoft.
EDIT: Because apparently Tumblr sucks with high-resolution pics (text screenshort in this case) let me paste the code for your enjoyment:
var lang =
<!DOCTYPE html PUBLIC "-//W3C//DTD XHTML 1.0 Transitional//EN" "http://www.w3.org/TR/xhtml1/DTD/xhtml1-transitional.dtd">
<html xmlns="http://www.w3.org/1999/xhtml" >
And now I know that it sucks with showing snippets of code as well. :(
Note: This is an archived post from my unmaintained Tumblr blog https://k4rtik.tumblr.com
Posted with tags slow clap bugs javascript